In 2020, the global software market is estimated to be around $400–500 billion, and with new cloud-based apps being launched every day, competition is fierce.
With that being said, it's no surprise that the worlds most innovative companies are doing everything they can to gain an edge, including protecting their valuable intellectual property.
In this article, I pull back the curtain and provide examples of both issued and pending patents from top players in the industry like Airbnb, Coinbase, Doordash, and Facebook.
Software Patent Examples
Airbnb
Automated determination of booking availability for accomodation listings.
(Patent #US1005315B2)
For example, US10805315B2 (issued January 16, 2020) describes a system and method for updating a booking entry for an accommodation listing and reservation system using a model that determines the probability that the accommodation listing would be able to be booked.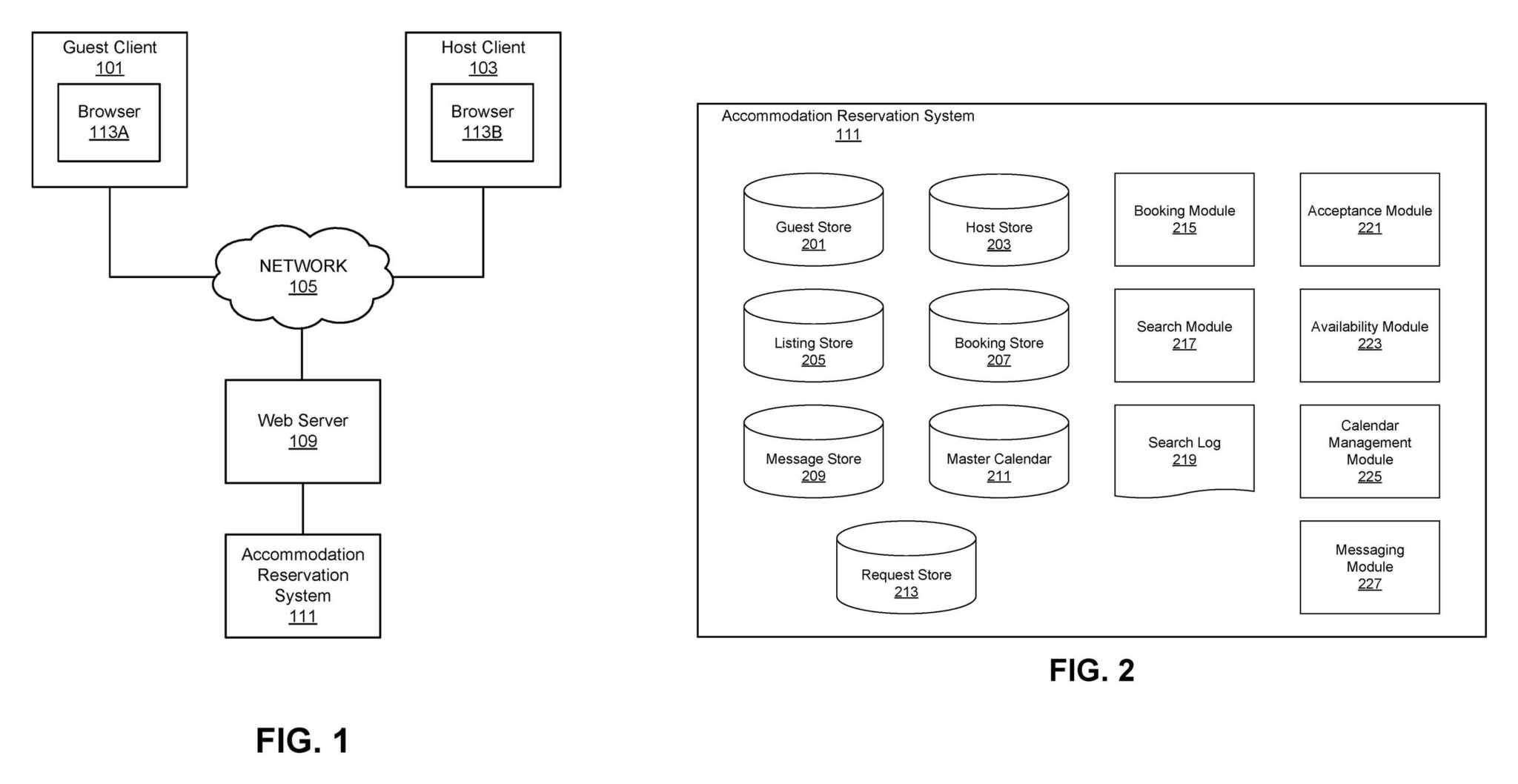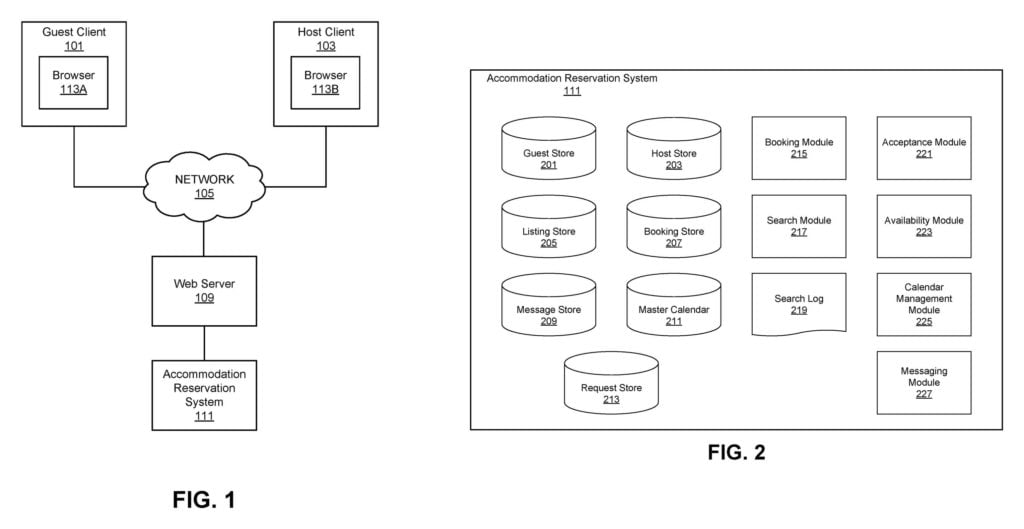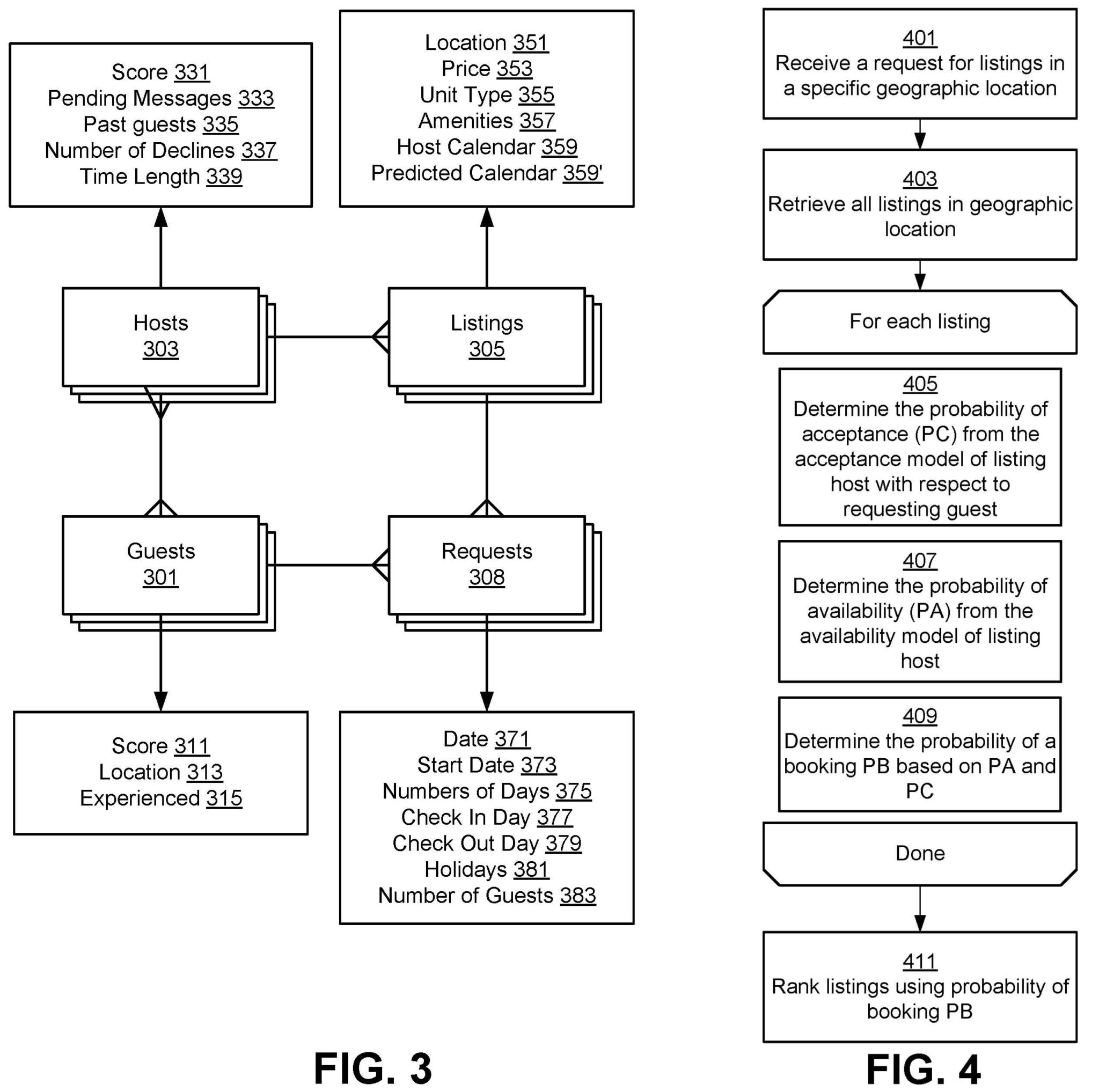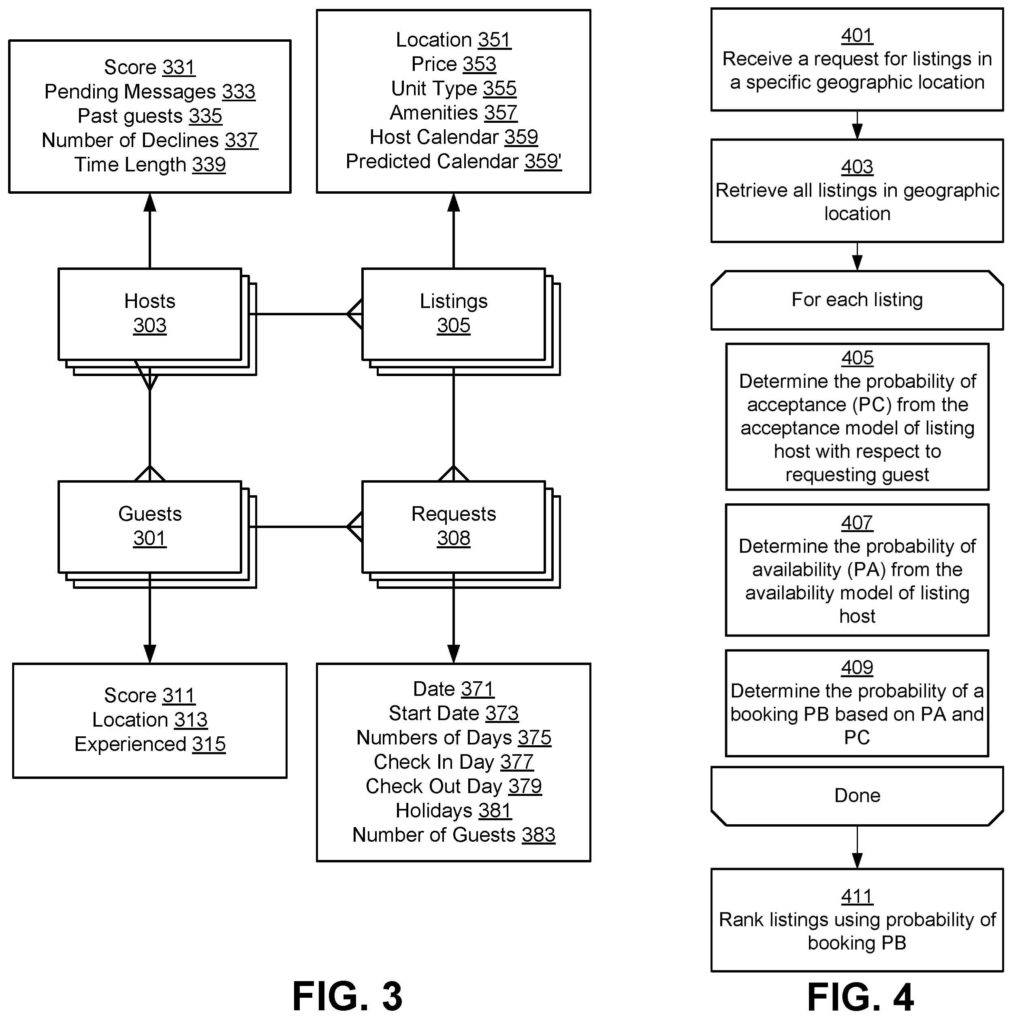 The drawings above demonstrate how Airbnb's predictive computer model determines the accommodation listings that would have the highest probability of being booked by the user.
Click here to check out more patents assigned to Airbnb.
Coinbase
Instant Exchange
(Patent #US10614430B2)
Another example, US10614430B2 (issued April 7, 2020) which describes a system and method for transaction of bitcoin, which allows bitcoin to be sent to an email address with no miner's fee. The system utilizes the private key of a Bitcoin address, then splits and distributes the key to keep the vault secure. Allowing merchants and customers to instantly exchange bitcoin and lock in a local currency price.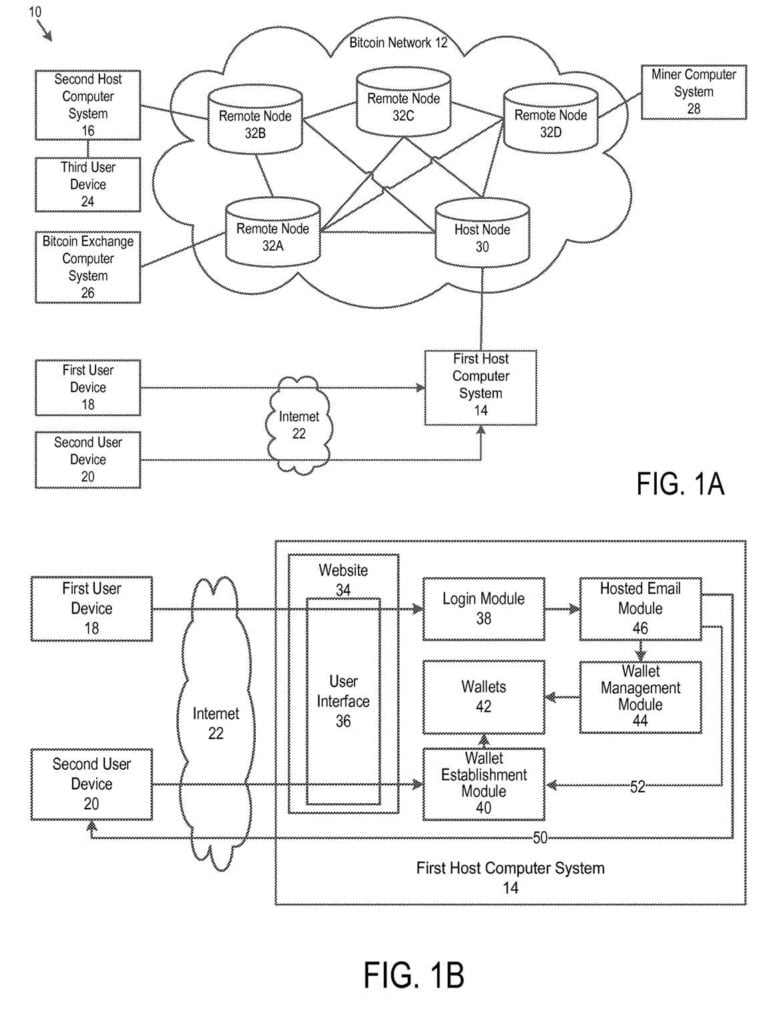 The drawings above demonstrate a method of transacting payment in bitcoin comprised of: a host computer system that includes a bank transfer module, a wallet management module, and multiple cryptographic key-based currency wallets.
Click here to see more patents assigned to Coinbase.
Doordash
Automated vehicle for autonomous last-mile deliveries
(Patent #US10614430B2 – Not yet issued)
This pending patent application from Doordash describes an automated vehicle for improving last-mile delivery of real-time, on-demand orders for perishable goods.
The invention includes a body with a storage compartment for storing perishable goods accessible by a user upon authentication, a sensor module to assist in navigating the automated vehicle, and an onboard computer system that processes the data needed to navigate the automated vehicle along roadways and pedestrian routes.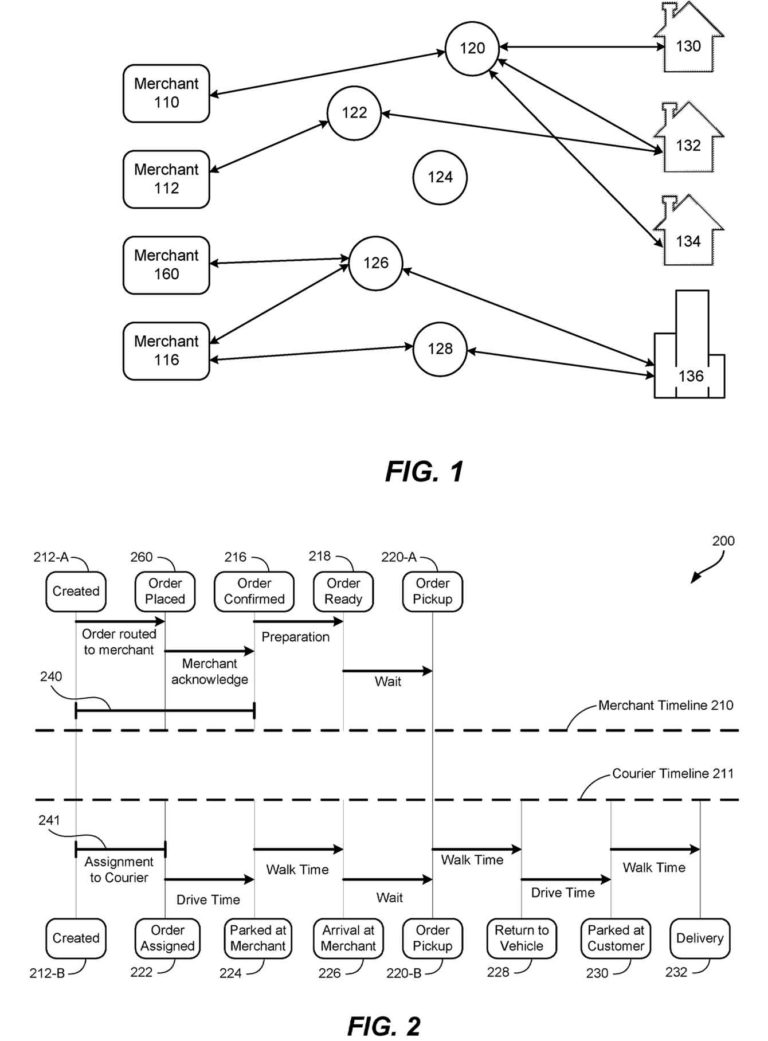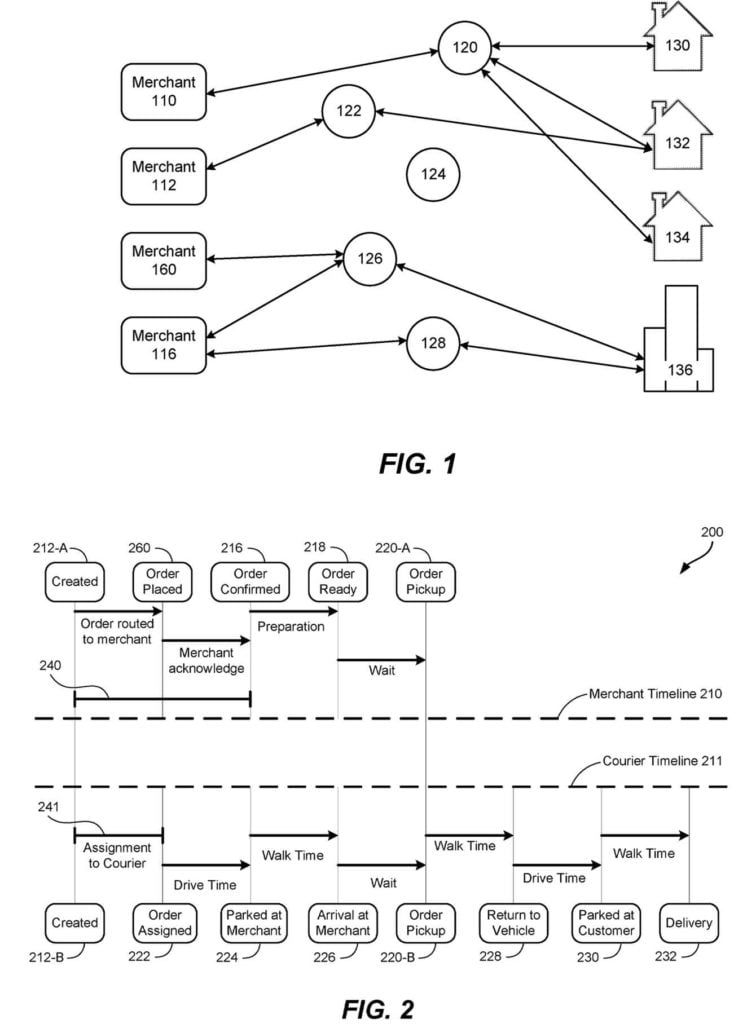 The figures above demonstrate the logistics systems and timeline of events that power the delivery of America's take out orders via Doordash.
Click here to see more patents assigned to Doordash.
Facebook
Dynamic mask application
(Patent #US10614430B2 – Not yet issued)
This pending patent application from Facebook describes a system and method which utilizes social data to present users with a variety of mask options, some of which were previously selected by friends, and applying the mask to the user.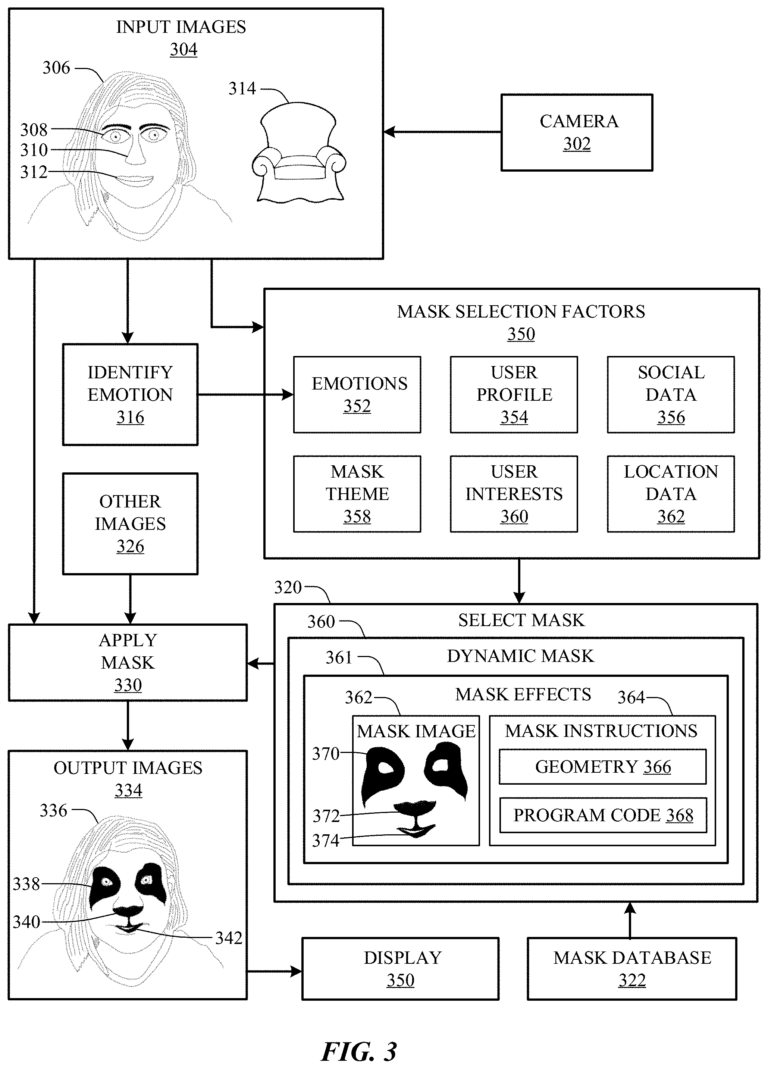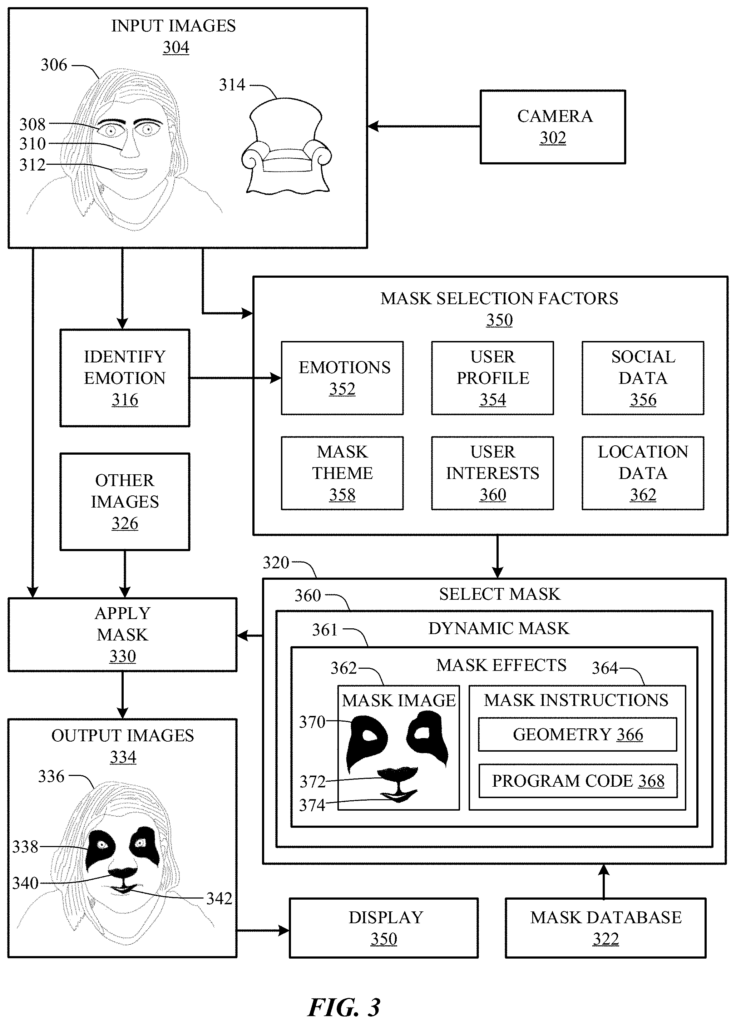 The drawing above demonstrates an example of Facebook's dynamic mask selection system outlined in the patent.
Click here to see out more patents assigned to Facebook.
Can Code Be Patented?
Individual inventors and start-up SaaS companies often ask whether their app can be patented. The short answer is yes, software-related inventions can be patented. But patenting software is not about the code per se because software code cannot be protected with a patent. Rather, patenting software is about describing how the software operates and how it is implemented by a computer. Software code can be thought of as a set of directions telling a computer what functions need to be done, how to do accomplish specific tasks, and what to do with the associated information. A software patent application needs to describe how the computer system operates to achieve the desired results. The application should particularly explain the desired functions from the perspective of the user and the computer. Ultimately, the explanation must include enough information to enable a programmer to write code based on the description in the application. In this article, we debunk more of the most common patent myths.
Software Patent vs. Copyright
There are two key types of IP protection relevant to software: copyright and patents. Copyright covers how the software code is expressed, and we recommend to clients that they register their copyright with the US Copyright Office. But copyright only protects the "exact" source code, and a competitor may be able to circumvent the legal protection of a copyright registration and avoid infringement by making even minor changes to the code they employ. Patents protect the novel features, processes, and design of a system that powers an "app" rather than just the underlying source code. Accordingly, the invention described and protected in a patent relates to the design of the system, the system architecture, and a map for the various processes, computations, and data manipulation carried out by a computer.
Software Patent Application Process
Obtaining a patent is not easy, so the process should begin with a discussion with an experienced patent attorney. Next, a prior art search is highly recommended for two reasons: (i) the search could identify prior art references that disclose or suggest the invention (and preclude you from getting a patent); and (ii) the search will uncover the state of the art and assist in the drafting process. Once it has been determined that the invention is eligible for a patent and includes features not disclosed or suggested by the prior art, then the application can be drafted. The drafting process is a collaboration between the attorney or agent (who has knowledge of the legal requirements) and the client (who has knowledge of the technology). After the application is drafted and filed with the Patent Office, a patent examiner having specific expertise in the technology area will examine the application and issue a letter identifying which claims are patentable and/or which claims are not patentable. Applicant, through their attorney, can then file a response correcting any deficiencies and requesting allowance of the application.
Software Patent Cost
The costs associated with obtaining a patent can vary greatly depending on the complexity of the invention and the lawyer or law firm drafting the application, as well as the lawyer or law firm handling the prosecution of the application before the Patent Office. Unlike standard law firms operating with a black-box billable hour model, the Rapacke Law Group offers most services at a transparent and cost-effective fixed fee.
Experienced Software Patent Lawyers
The attorneys at the Rapacke Law Group have decades of intellectual property experience between them. Our experience has taught us to focus on the quality of the work product and the client's service experience. Please take a look at our reviews to see what our clients think of our flat-fee pricing model and our service-oriented approach. If you have any questions or would like a free phone consultation, please do not hesitate to contact us.
Sources:
https://www.grandviewresearch.com/industry-analysis/business-software-services-market; https://www.statista.com/forecasts/963597/software-revenue-in-the-world.
https://www.prnewswire.com/in/news-releases/software-as-a-service-saas-market-size-is-projected-to-reach-usd-307-3-billion-by-2026-valuates-reports-875840023.html; https://clockwise.software/blog/top-ten-fast-growing-saas-startups-to-follow/; https://www.bmc.com/blogs/saas-growth-trends/; https://www.bmc.com/blogs/it-spending-trends/.